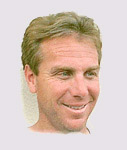 Peter Ambrose
Coach Ambrose is an Owner and Director of Coaching at Longmont Indoor Soccer. His head coaching experience inlcudes The Colorado Rapids U23 Soccer Team and the University of Colorado Men's Soccer Team. He is the current head coach of the Oskar Blues FC PASL-Premier indoor team in Longmont. Coach Ambrose has also coached and trained for several clubs in the past and has been the director for many local and national soccer camps and clinics. Coach Ambrose is also the Director of SoccerTots at Loulder Indoor Soccer.
Patrick Keane
Patrick is an Owner and President / CFO of Longmont Indoor Soccer. Patrick grew up in Wisconsin where he played youth soccer, starting at an early age. Patrick graduated from the University of Colorado in 2005 where he played for the CU Men's Soccer Team.
Coaches and Trainers
Our coaches and trainers will be qualified and experienced in youth soccer. Parents interested in coaching will be trained by our professional staff and will have the opportunity to coach their children's team.